Ready to renovate your bathroom but not sure what style to try next? You're in for a treat with these up and coming 2023 bathroom design trends!
As the world slowly returns to a pre-pandemic lifestyle, we're noticing a general theme of joy expressed through more bold, energising colours; decorative details; and continued demand for sustainable materials like natural stone and wood.
If you want to try something different for your bathroom renovations, read on for some of the stand-out trends we've noticed in our industry.
Jazz up your bathroom with maximalist decor and organic shapes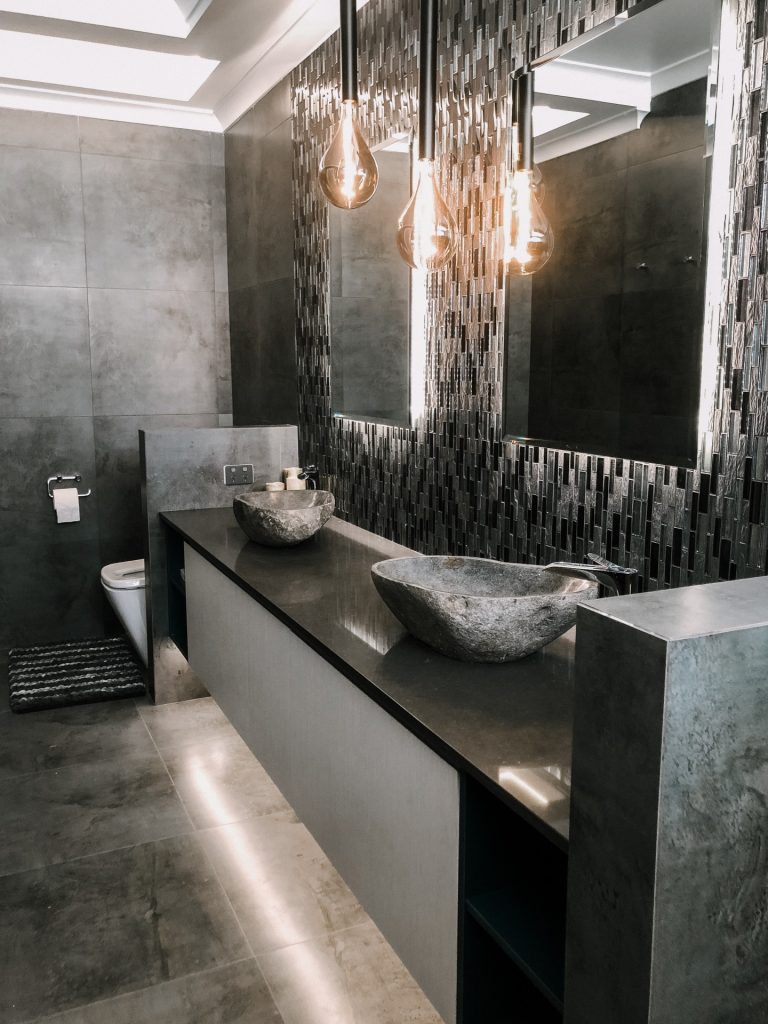 Tired of 'perfect' minimalist bathroom designs? There are so many ways to give your bathroom extra oomph, from funky asymmetrical mirrors to whimsical botanical wallpapers – perfect for gazing while laying in the tub.
If you're bored of large, uniform tiling, you might like to experiment with handmade tiles, such as Moroccan-made Zellige tiles, which can make for an eye-catching accent wall. Pink and multi-coloured terrazzo tiles are also a fun choice!
For a more luxurious-looking bathroom, backlit mirrors, brushed gold tap ware, and stylish globe sconces are currently having a moment (see our later section on the growing Art Deco trend).
Earth and ocean-inspired colour palettes are still in (with a twist)
As we saw in our previous article on 2022 bathroom design trends, homeowners continue to be drawn to nature-inspired colours.
However, we're seeing a shift away from muted, matte applications, with homeowners brightening up their bathrooms with glossy tiles, coloured sinks, and painted cabinets.
Try a vintage bathroom design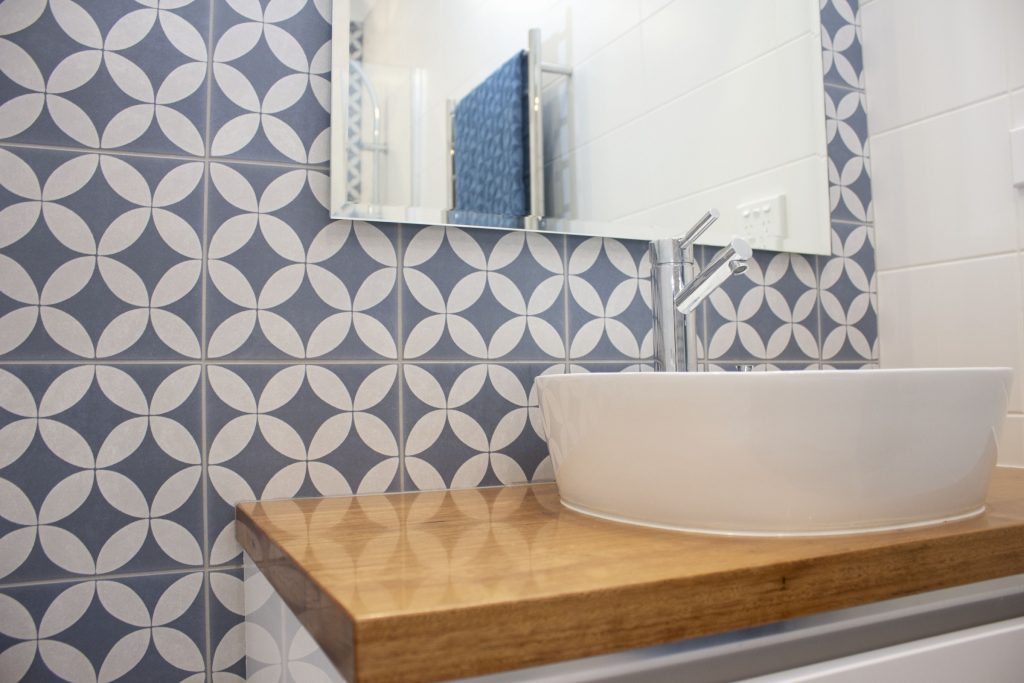 Perhaps it's the return of international travel, or a nostalgic yearning for more cosy and 'romantic' spaces in the home, but modern art and design movements like Mid-Century Modern (MCM) and Art Deco are making a comeback in 2023.
As the name suggests, MCM encompasses design trends from the late 1940s – 60s, which can be emulated through the following features:
Utilitarian furniture with clean lines. Think tables with 'peg legs' or low, sloping chairs that communicate comfort and ease.
Mixed usage of materials like timber, metal, glass, and vinyl. A stained wooden vanity with brass handles is a common example.
Geometric tiles with pops of colour.
Going back a few more decades is the Art Deco style, popularised in Europe and the US during the post-WWI boom.
Emphasising modernity and glamour, Art Deco can be identified through its use of crafted objects; geometric patterns and forms; sleek materials such as steel, glass, lacquered wood; and ornate silk and velvet fabrics.
You can try infusing your bathroom or powder room with an Art Deco flair with the following touches:
Pleated lamp shades or statement crystal sconces.
Gold or chrome tapware.
Ceramic tiles and mirrors featuring floral designs or 'sunburst' motifs.
Deep greens and blues contrasted with gold or neutral colours.
Whatever style you choose to experiment with, remember to think about which materials or pieces you include are practical, easy to clean, and can last in the moisture-filled environment of your bathroom.
Find your ideal style with an expert bathroom designer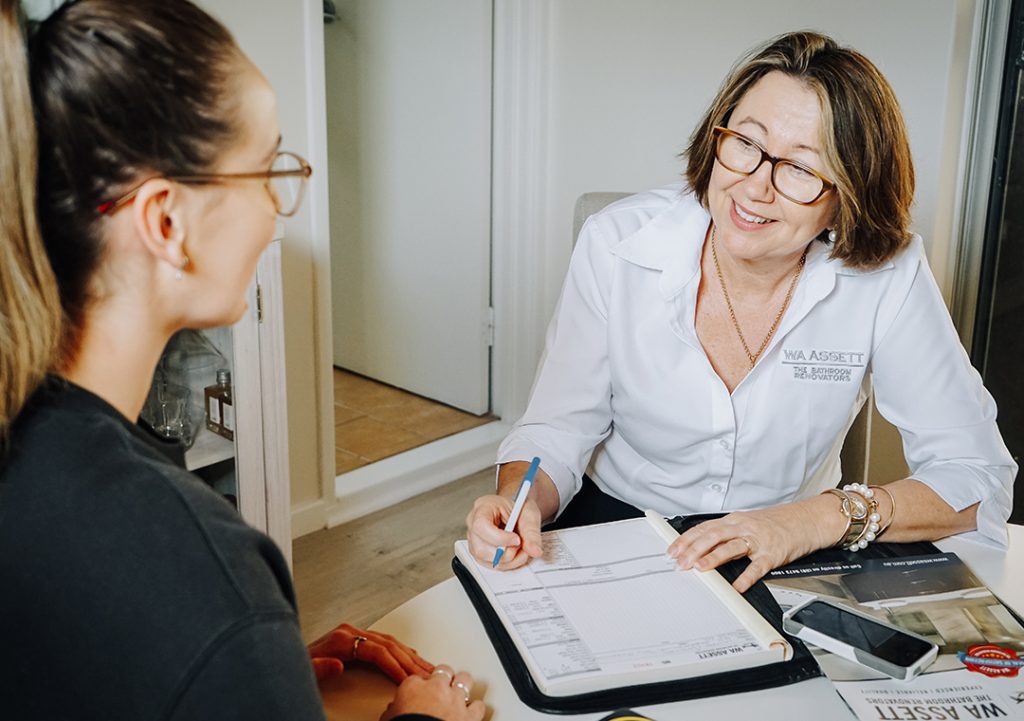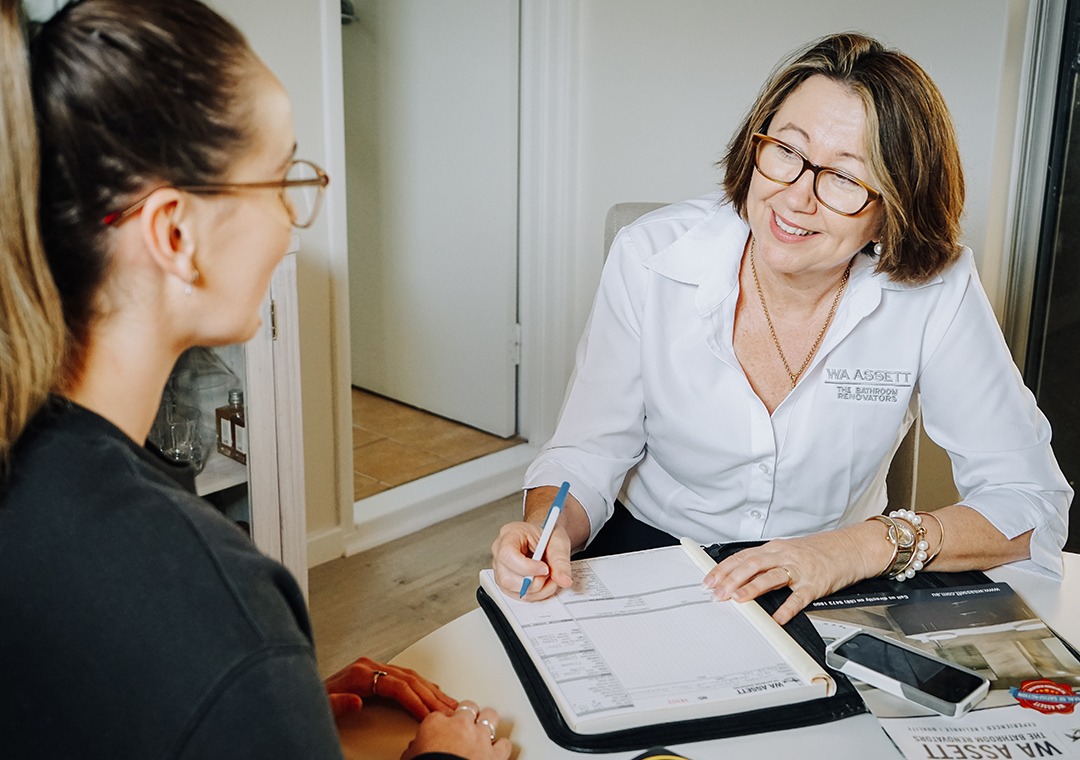 Want to invest in a beautiful bathroom you'll love for a long time? You're in the right place – at WA Assett, we specialise in custom bathroom designs and complete renovations.
With over 25 years of experience designing and renovating bathrooms for clients all over Perth, you can rely on our trusted team to deliver a quality result. Get started with an in-home consultation today by calling  (08) 9473 1800.
We'll come to you
Book your free estimate and in-house consultation with one of our experienced bathroom design consultants. We'll also come straight to you!
Call Us Now
on 9473 1800 or