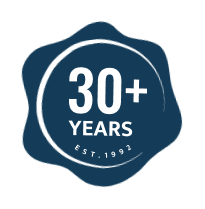 Transforming Bathrooms in Perth for Over 25 Years
WA Assett is a family-owned bathroom renovation company with over 25 years of industry experience. With a dedicated team of professional renovators, we can work on both domestic and commercial projects. We pride ourselves on high quality results, and this has seen us gain a reputation for excellence.
Click above to view our Google reviews

Attention to Detail
We never cut corners and you will benefit from excellent workmanship and attention to detail.

Quality Fixtures
We only use high quality fittings and fixtures to ensure your bathroom is built to last.
Seal of Satisfaction
We stand by the quality of our work and offer customers a seal of satisfaction guarantee.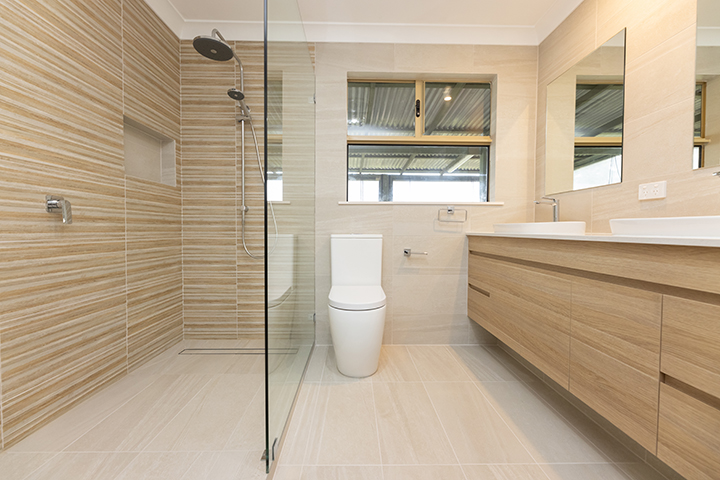 Professional Bathroom Renovations
When you choose WA Assett for your bathroom renovation, the process will be smooth and efficient. We take care of everything as we plan, design, and renovate!
You will have access to:
A dedicated renovation team including a design consultant and project manager, to support the bathroom renovation process and provide new bathroom renovation ideas
A large range of quality fittings and fixtures from our selection centre
A caring company who gives back to the local community
1. Plan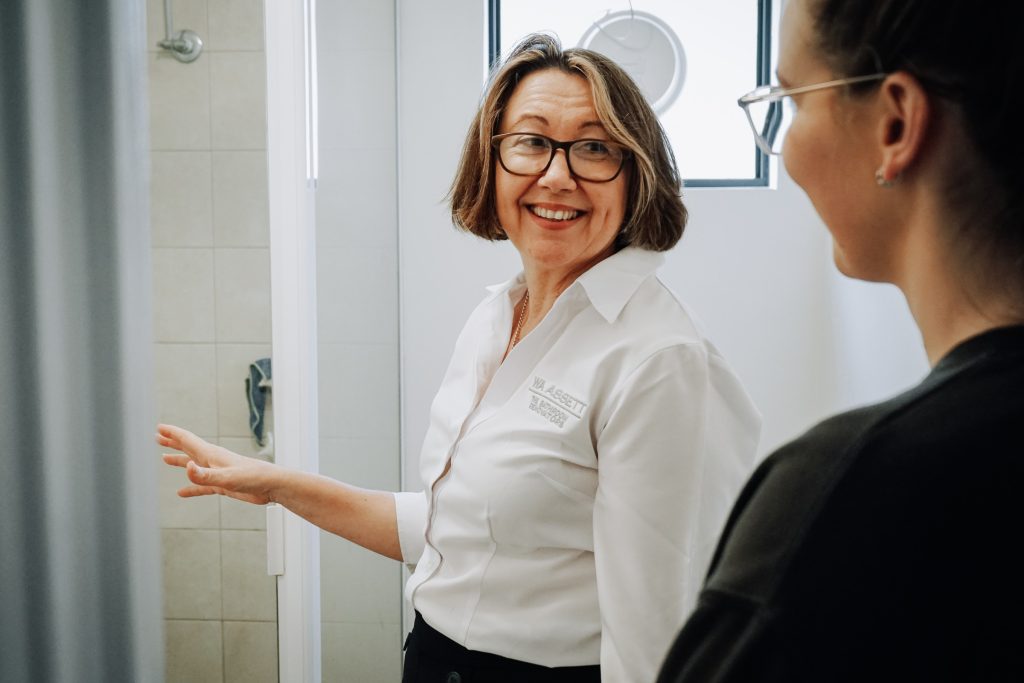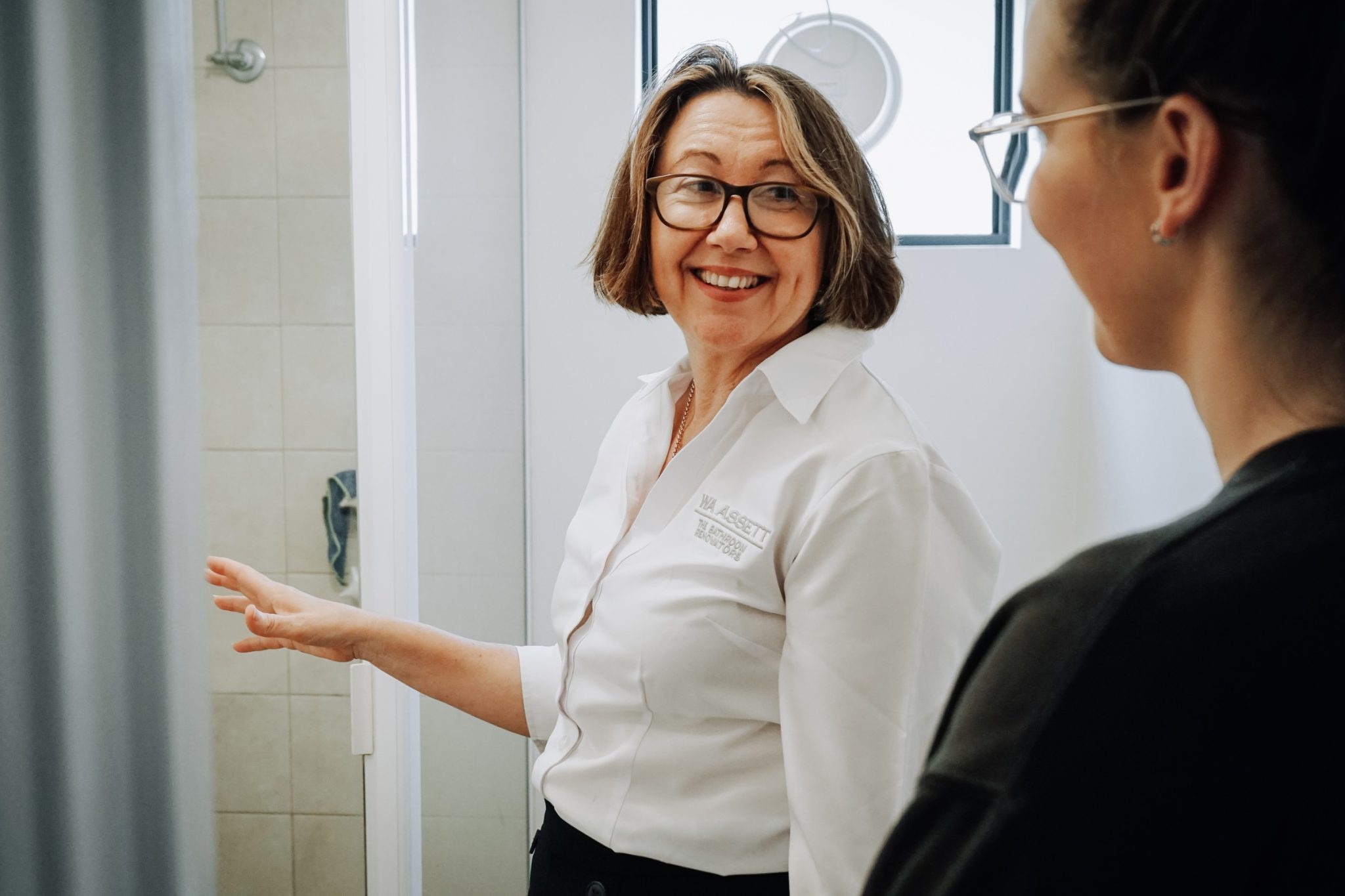 Before making a commitment you can take advantage of a free bathroom design consultation. With the assistance of a design consultant and project manager, we can help you plan the bathroom of your dreams!
2. Design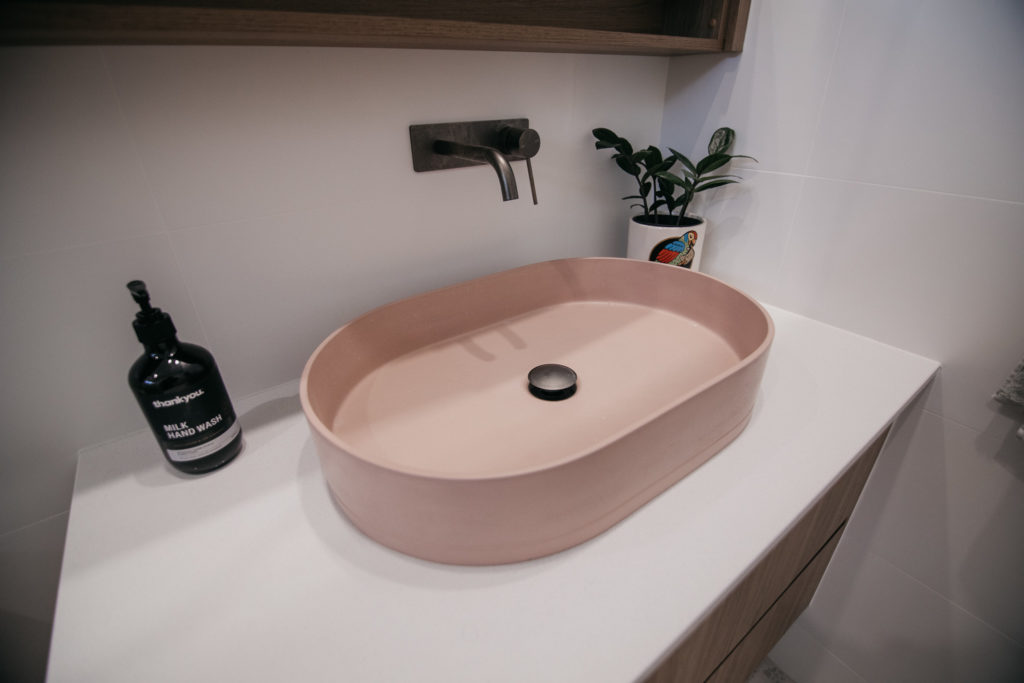 The right colour palette, fittings, and fixings are essential for a modern bathroom design. Our selection centre is open for customers to view the range in person, with trained staff available to assist.
3. Renovate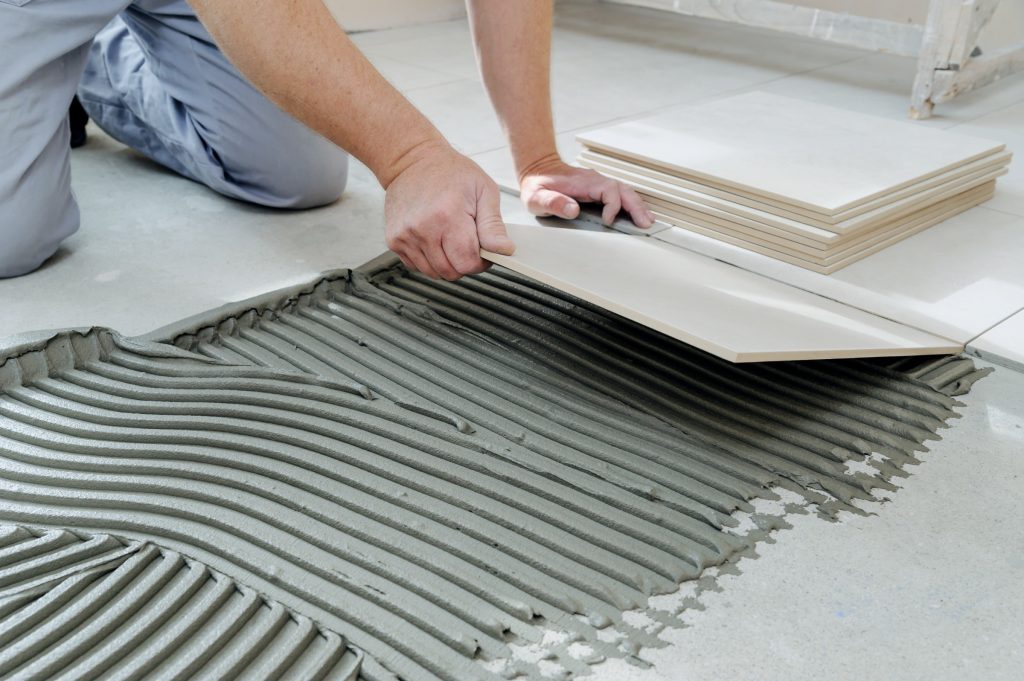 You can trust our tradespeople to finish the job on time and with high attention to detail. With careful installation your new bathroom, ensuite, laundry, or kitchen will be stylish and functional.
Experience the WA Assett Difference
When you choose a renovation company they should be the right fit for the job. Talk to us today to learn more about our unique points of difference. We offer:
Affordable prices through our industry contacts
Designs that are modern and functional
Service that only comes from a locally owned company
We'll come to you
Book your free estimate and in-house consultation with one of our experienced bathroom design consultants. We'll also come straight to you!
Call Us Now
on 9473 1800 or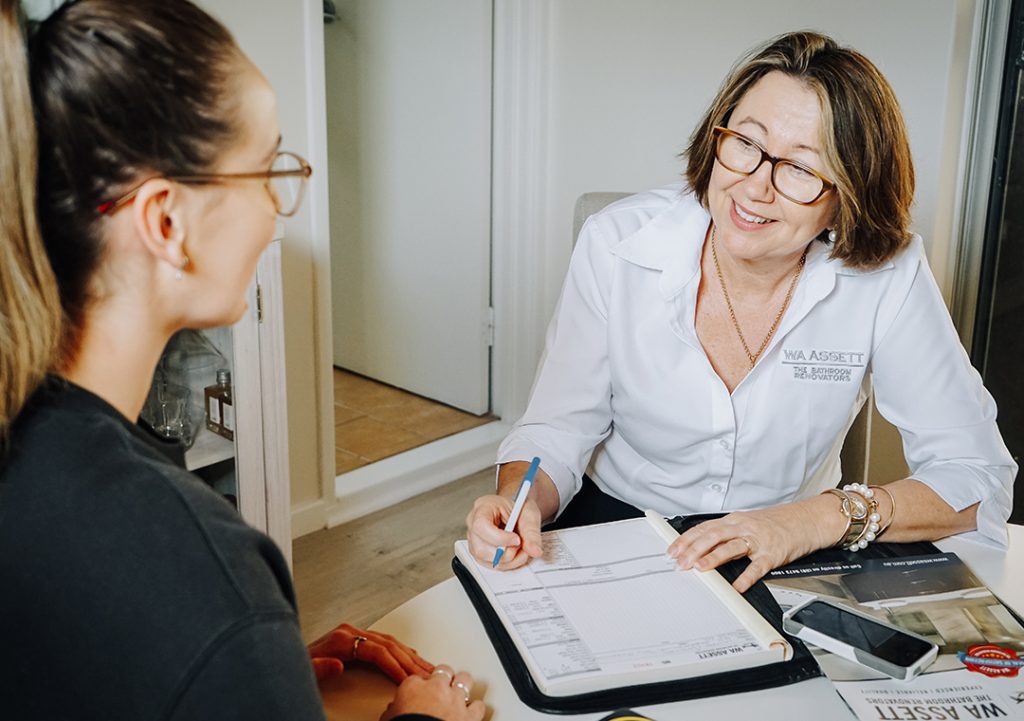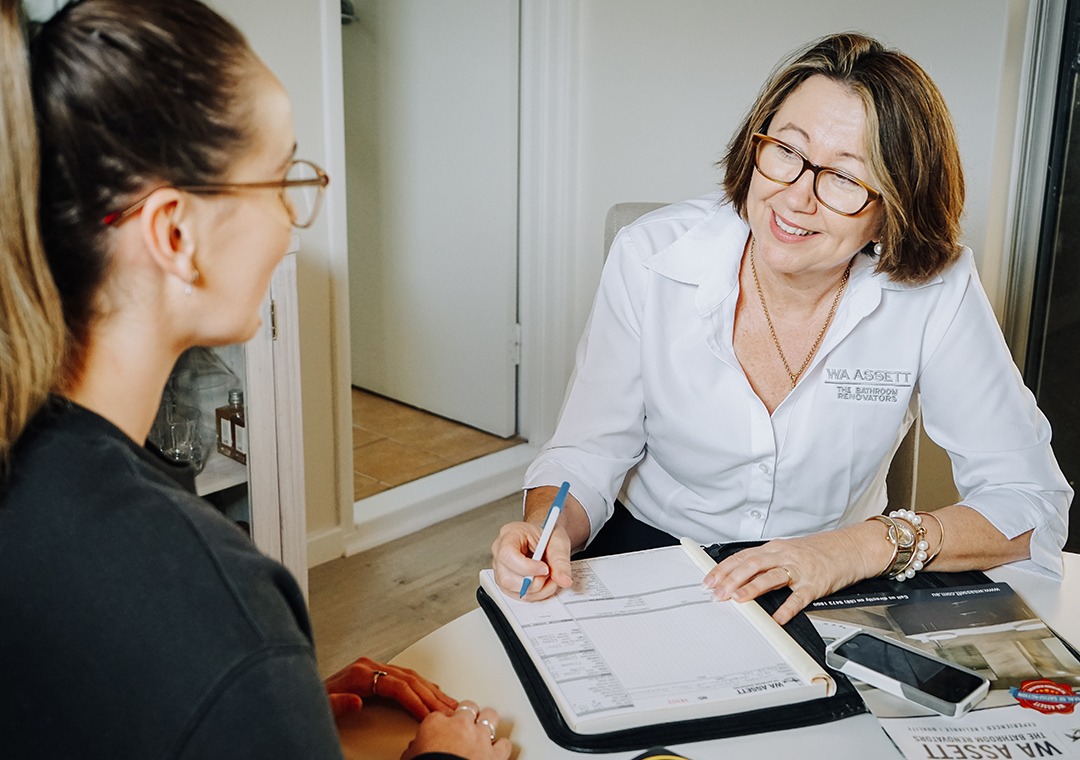 Bathroom Renovation Projects Gallery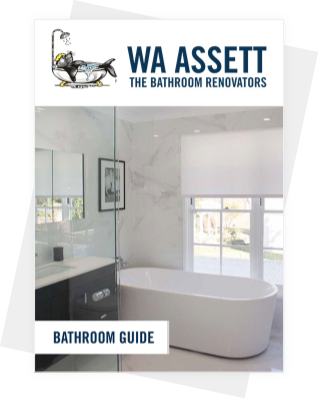 Get Your FREE Bathroom Guide
Be inspired with this free bathroom guide. It features tips and tricks from the professionals, and is recommended for anyone planning a bathroom renovation.
Browse types of Bathroom Renovations
How can I turn my tired old bathroom into a new fresh space?
Despite being one of the smallest rooms in your home, the bathroom is of great importance. That's why it's important that your bathroom design aligns with you.
It is one of the first things prospective buyers notice and a room that you and your family will use on a daily basis. Whether you want to update the look or maximise space, our expertise in Perth bathroom renovations will transform a tired old bathroom into a fresh new space.
We understand that every client is unique, and this is why we custom design every aspect of your bathroom renovation. We are experienced in making designs that are accessible and smart. 
We work closely with you to ensure that your bathroom design comes to life and that the end design is something that we are proud of.
How much does it cost to renovate a bathroom in Perth?
The price of a new bathroom will depend on where you live in Australia.
How much does it cost to renovate and remodel a bathroom in Perth? For local homeowners, the average price will range anywhere between $12,000 and $30,000. 
It is hard to predict the final cost without assessing your individual project. At WA Assett, we offer a free estimate based on the size and scale of your bathroom or laundry renovation. 
Here are the factors that will impact the cost of your bathroom renovation:
Any underlying health and safety issues that require repair

Your choice of fittings, fixtures, tiles, paint, and other components

The removal of walls and major changes to the floor plan

Waterproofing, electrical, plumbing and construction work

Availability of products and any special orders

The location and overall size of the room

The amount of tiling required
When you sit down with our talented team, we will come up with a bathroom design that fits your budget, while ensuring you have any items on your must-have list. Whether it is a small bathroom or ensuite, commercial premises or accessible bathroom, a makeover or redesign from WA Assett will be well worth the investment.
How long does a bathroom renovation take?
Once again, the answer will depend on the size and complexity of the project. For example, a small bathroom renovation will be quicker than a full scale commercial bathroom installation. Small changes can be done with ease, but full redesigns can be time consuming. The availability of any components, site access, booking schedules, and tradespeople requirements can all impact the completion date. Planning your dream bathroom can take time, as we work with you to ensure it is the perfect fit.
As a general guide, expect your bathroom redesign in Perth to take between 3 and 4 weeks. Work won't generally be done full time due to drying times and the scheduling of different trades, but there will be a commitment for dedicated work hours each week. You will have access to a dedicated site supervisor whose job is to ensure quality control and keep the renovation running in a smooth and timely manner.
When you discuss your bathroom renovation with us we can give you a clear estimation for completion. We understand waiting for tradespeople can be frustrating, and we always do our best to ensure you know who and what to expect…and when! We are committed to providing all of our customers with a transparent process. 
Who will design the bathroom renovation?
When you work with WA Assett, you will be assigned a project manager and bathroom design consultant. This makes it easy for those with no design experience, as you can reap the benefits of our extensive knowledge. If you prefer to put your own twist on the project, we can implement your ideas.
We have two convenient selection centre located in Bayswater. These are open by appointment and showcase a number of fittings, fixtures, and tiles. There are even displays set up to give you a feel for how different layouts will look. When you visit one of our selection centre in Perth, a bathroom design consultant will be able to discuss your preferences. 
With the support of our team, your new bathroom will be functional, spacious and aesthetically pleasing.
What Does A Bathroom Renovation Need?
Before finalising your bathroom renovation plans, take some time to think about what you want the space to include. There will likely be a few components that you feel as though you can't live without. This could be accessibility solutions such as grab rails, a bath for your young children, or a double shower for busy couples. You only want to renovate your bathroom once, and this is the time to get what you want. The space should feel like a mini oasis and we want to make sure you don't have any regrets. 
There will also be a few pieces you might want if they can fit within your budget. Add these to a separate list and chat with us about whether they can be included in the design. Yo
u could have your eye on a feature vanity unit, tiles to the ceiling, or heated floors. 
It is possible that you could save money in other areas, in order to accommodate more luxury pieces.  With innovation and the right contacts, you can have quality at a reasonable price.
Making structural changes can add to the cost and before proceeding you should be aware there may be underlying safety concerns. Older houses are more likely to have damage such as mould, water leaks, and electrical faults. These types of issues can be hazardous and fixing them should be a priority. 
What Can Help Make The Selection Process Easier?
With what seems like an infinite number of choices, it can be difficult knowing which theme will suit your bathroom. To make this process easier, you should look for design inspiration to determine your personal style preferences. Magazines, the internet, and our gallery of previous projects are all filled with ideas. 
We recommend a design that is versatile and appealing. This will increase the resale value of your Perth home, and give you an advantage if you ever do decide to sell. Contemporary and neutral colour palettes such as greys, whites, blacks, and beiges are all viable options. You can always add a splash of colour with your removable accessories including towels, indoor plants, and soap dispensers! 
Keep in mind your bathroom should suit the look and feel of the rest of the property. A vintage design probably won't suit a modern home, and a sleek industrial look might not suit a cozy wooden cottage. The interior should be consistent throughout, but this doesn't mean you can't put your unique stamp on the space. While sticking to your theme you can still add elements that make a statement such as a feature wall, luxurious lighting, or embellished mirror. 
What Are The Benefits Of Choosing A Local Perth Renovator?
As a company who has built a solid reputation on word of mouth, our results speak for themselves. We have won numerous bathroom renovation awards and are well known in the local industry. When you choose locals to do a local job, the benefits are far reaching.
At WA Assett we take pride in providing exceptional customer service and stunning results. We are easy to contact and we won't leave you waiting with broken promises. We will be there when you need us and you can have your questions answered at a time that is convenient for you. 
Rest assured that when you hire us for your bathroom renovation you will be left with a room that fits your lifestyle. We leave the work area clean and tidy, and even the finest details are completed to the highest of standards.\
Choosing a local company means giving back to the Perth economy, and directly supports workers and their jobs. As a way to give back and say thank you, we are involved with a number of charities and clubs. We have been in business for decades, and this experience shows in every job we do.
Create The Bathroom Of Your Dreams Today!
When you choose WA Assett, you will not only get our seal of satisfaction, you also get access to our network of partners that provide you with only the finest materials from the most trusted brands in the business. To complement our bathroom renovation services, we can transform your laundry or kitchen with our wealth of knowledge in laundry and bathroom designs.
If you're looking for a bathroom renovation company in Perth that you can trust to deliver exceptional quality at the right price, you've come to the right place. We have been renovating bathrooms in WA for over 20 years and we are experts at what we do: whether that be accessible bathrooms, small bathroom designs, or any other bathroom renovation requirements.
We look forward to bringing your vision to life.
From renovating a small bathroom in your home to designing and building accessible bathrooms for commercial establishments, you can trust us to deliver high quality results, every time. 
For more information about our services or to request an estimate of costs, please call us at 9473 1800 or send us an email enquiry. Our friendly bathroom renovation team is ready to assist!