Whether you're building a new home or renovating your bathroom, choosing the best toilet suite is a more important decision than you might think!
Besides finding a style that looks great and matches the rest of your bathroom's fittings, you'll want to make sure that your toilet suite meets your living requirements, such as accommodating family members and guests of all ages, abilities, and heights.
In this guide, we'll explore a range of toilet suite styles and key features that you should consider when choosing a new toilet design for your bathroom.
Price range: $$$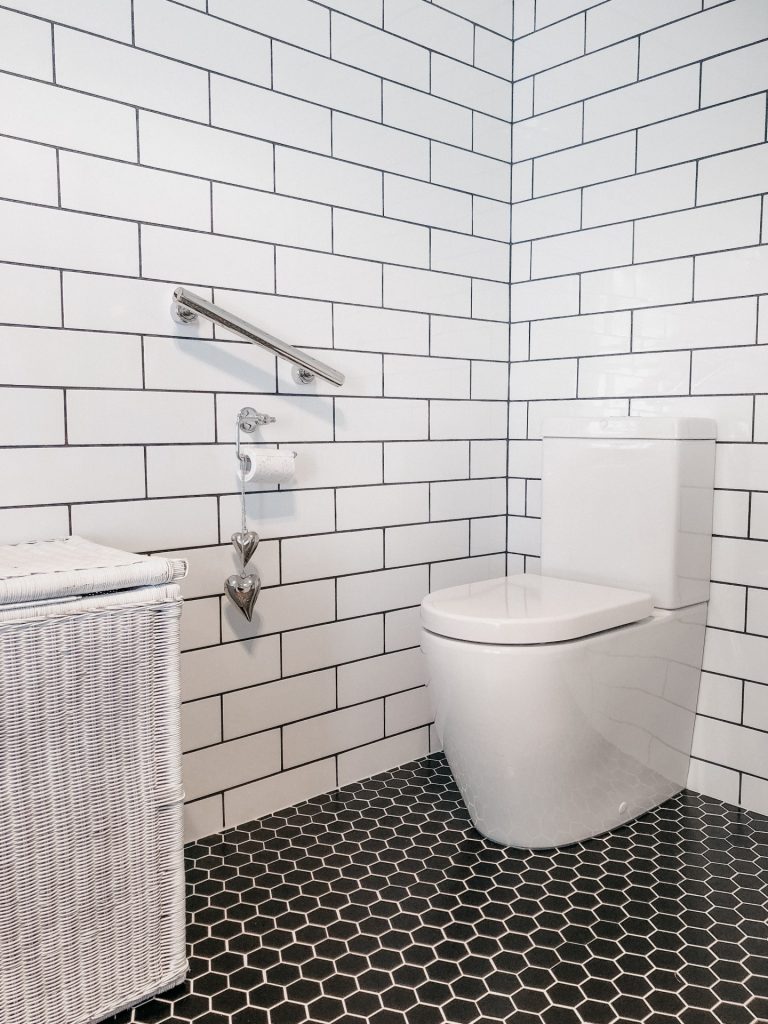 A popular choice for homeowners who are willing to spend a bit more for a stylish look, a back-to-wall or wall-faced toilet is installed flat against the wall without any gaps. As the plumbing is concealed inside the wall, this creates a cleaner look, saves on space, and eliminates the need to clean around the back of the toilet. The cistern may also be placed inside the wall for a more modern and minimalist style.
Newer models of wall-faced toilets also come with a quick release button that takes the seat and lid off for easy cleaning, which is great for families with young children who are toilet training.
Wall-hung toilets
Price range: $$$
Similar to wall-faced toilets, a wall-hung toilet has all its plumbing placed inside the wall. The benefit of this style is that it can be installed at your preferred height, and helps create the illusion of space in smaller bathrooms.
Before choosing to install this style of toilet, you'll need to make sure that your wall is strong enough to support the weight of different people who will be using the toilet.
Close-coupled toilet suite
Price range: $$
One of the most common toilet suites, a close-coupled toilet is designed so that the cistern sits on top of the toilet pan, hiding the flush pipe from view.

If you're looking for a toilet suite that suits almost any bathroom style, is easy and affordable to install, then a close-coupled toilet could be the way to go.
Connector toilets
Price range: $

A connector toilet is the cheapest and easiest style of toilet to install in your bathroom. They are designed so that the toilet cistern and pan are connected via the flush pipe, which can be concealed with a connector plate.

A drawback of this toilet style is that the exposed pipework can be difficult to clean as dust and grime builds up over time – however, if you're on a particularly tight budget and don't mind a little extra cleaning here and there, a link toilet should do the job.

Toilet features and trends to look out for
Now that you've settled on a toilet style, you might like to consider some extra features that can be added on or customised for a little extra comfort or style (if your budget allows):
Rimless toilets. These toilets have the inner rim removed and are designed to flush water around the toilet bowl more effectively than in a standard toilet.

This makes for a more hygienic toilet, with less cleaning and maintenance required. Thanks to the direct-flush system that rimless toilets have, you'll also save on water with each flush.

Besides looking sleeker in appearance, a rimless toilet is also quite affordable, which makes it a popular choice for new homeowners.

Soft-close toilet seats. If you're sick of hearing the toilet seat slamming down at all hours of the night, then a soft-close toilet seat is a worthy investment.

Designed with special hinges that help the seat close slowly and gently onto the rim, a soft-close toilet seat will also reduce damage to the seat and replacement costs over time.

Nano-glazed toilets. Similar to Teflon, nano glaze is a hydrophilic additive that makes water bead off the bowl instead of sticking to it.

In addition to reducing the amount of cleaning you'll need to do, this coating also prevents bacteria from hanging around your toilet, creating a more hygienic bathroom environment.
Whatever your preferred toilet suite style is, always consult with the experts to ensure your bathroom is well-designed for your needs now and into the future (especially as the kids grow up or guests of different heights and abilities come visiting).
Planning a renovation? Talk to WA's bathroom renovation experts.
If you're looking for professional designers to bring your bathroom renovation ideas to life, get in touch today to book your free consultation.
We'll come to you
Book your free estimate and in-house consultation with one of our experienced bathroom design consultants. We'll also come straight to you!
Call Us Now
on 9473 1800 or